TheHawaiianAirlinesCard.com 60,000 Bonus Mile Offer for the Hawaiian Airlines© World Elite Mastercard©
Did you receive a pre-selected offer for the Hawaiian Airlines World Elite MasterCard? If you love traveling Hawaii and earning miles towards frequent flyer miles then this card might be the one for you.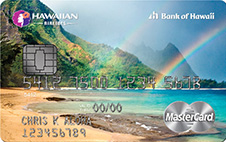 The limited-time offer is a 60000 bonus mile offer you also get a one-time 50% off companion discount which is basically 50% off of your friends airline ticket which is good for only coach. It must be used within the first 13 months of the card being opened and is subject to change at any time so definitely keep tabs on the latest information regarding all the rewards and perks that's the Hawaiian Airlines World Elite MasterCard has.
You also get your first checked bag free the small print says ineligible bags so we look that up for you and it shows that the free checked bag is good for flights Within North America, Hawaii and neighbor Islands. Authorized users of the primary Card members account do not qualify for the first checked bag benefit. Tickets purchased from third parties like id90 and travel agents are also not eligible. They also stayed for you to remember to provide your hawaiianmiles account number associated with a credit card when you make a reservation or check-in.
You also have an opportunity to learn even more miles you get 3x miles on eligible Hawaiian Airlines purchases, 2x miles on gas, dining and grocery store purchases, and 1X miles on all other purchases. The only restriction for the 3x miles I noticed was duty-free purchases made on in Flight Hawaiian Airlines.
Visit thehawaiianairlinescard.com or call 833-573-0036 to apply for the Hawaiian Airlines World Elite MasterCard