---

Intro (Purchases): N/A

---

Intro (Balance Transfers): N/A

---

Purchase APR Rate: 17.45% Variable

---

Annual Fee: $36 for first year. Billed $3 per month thereafter

---

Credit Needed: See website for Details*

---

Credit Line: $200-$3,000, depending on deposit amount

---

Late Payment Fee: Up to $40

Choose your own credit line based on how much money you want to put down as a security deposit.
Initial deposits can be from $200 to $3,000. You can increase your credit line at any time by adding additional money to your security deposit, up to $3,000.
After 9 months, we review your account for a credit line increase. No additional deposit required!
Secured Credit Cards are great for people looking to build or rebuild credit and are available to people with all kinds of credit backgrounds.
Unlike a debit card or a pre-paid card, it helps build your credit history. As you pay your bill every month, we report to all three major credit-reporting agencies.
Get 100% U.S.-based customer service & get your FICO® Credit Score for free each month.
Fraud coverage if your card is lost or stolen. Access your account 24 hours a day, 7 days a week. Get help staying on track with Auto Pay and account alerts.
Card issued by Merrick Bank, Member FDIC.

---




---

Intro (Purchases): N/A

---

Intro (Balance Transfers): N/A

---

Purchase APR Rate: 17.45% Variable

---

Annual Fee: $36 the first year. Billed $3 per month thereafter

---

Credit Needed: See website for Details

---

Credit Line: $200, which doubles to $400 if you qualify

---

Late Payment Fee: Up to $40

Put down $200, which becomes your credit line. Then, if you qualify, double your credit line to $400 without making another deposit.
Double your $200 credit line by making at least your minimum payment on time each month for the first 7 months your account is open.
Secured Credit Cards are great for people looking to build or rebuild credit and are available to people with all kinds of credit backgrounds.
Unlike a debit card or a pre-paid card, it helps build your credit history. We report your payment history to all three major credit-reporting agencies.
Get 100% U.S.-based customer service & get your FICO® Credit Score for free each month.
Fraud coverage if your card is lost or stolen. Access your account 24 hours a day, 7 days a week. Get help staying on track with available Auto Pay and account alerts.
Card issued by Merrick Bank, Member FDIC.

---
Take a look at your pre-approved Merrick Bank Double Your Line™ Secured Visa® offer with no hidden fees. Start with the initial credit limit that Merrick has chosen to approve you for, then after making timely payments while your account is open (for the terms they set) they will double your credit line!
Fees Breakdown What they will and won't charge you
Fees they may charge
Cash Advance Fee
Expedited Phone Payment Fee
Late Fee
Fees they won't charge
No Annual Fee
No Account Set-Up Fee
No Processing Fee
No Over Limit Fee
No Additional Card Fee
No Returned Payment Fee
What do you need to do to respond to the Merrick Bank Double Your Line™ Secured Visa®DoubleYourLine.com Offer?
To respond you can either visit www.doubleyourline.com and enter your acceptance certificate number
OR
text DYL to 555888
OR
Mail in your Pre-Approved Acceptance Certificate before the offer Expiration date. Don't forget to sign and date the bottom of that acceptance page!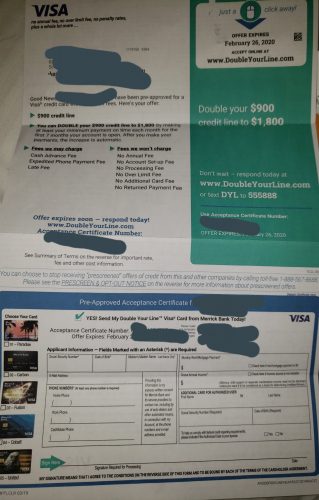 As an Amazon Associate I earn from qualifying purchases. Also, I get commissions for purchases or applications made through links in this post. View our full Advertiser Disclosure Here