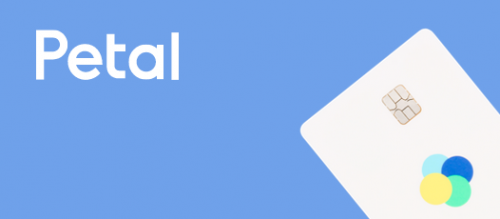 No fees whatsoever. No late fee, foreign transaction fee, annual fee, or any-other-kind-of-fee, fee.
Variable APRs range from 17.49% – 31.49%
Up to 1.5% cash back on eligible purchases after making 12 on-time monthly payments.
1% cash back on eligible purchases right away
2% – 10% cash back at select merchants
$300 – $10,000 credit limits
No credit score? No problem. If eligible, we'll create your Cash Score instead.
See if you're pre-approved within minutes without impacting your credit score.
Build credit alongside hundreds of thousands of Petal card members.
Petal reports to all 3 major credit bureaus.
No deposits required
Card issued by WebBank

Apply Online – Click Here

Purchase APR Rate: 17.49 – 31.49% Variable – Annual Fee: $0 – Credit Needed: Excellent/Good/Limited/No Credit – Late Payment Fee: $0 –
$0 Annual Fee
Variable APRs range from 24.49% – 33.99%
$300 – $5,000 credit limits
Earn a credit limit increase in as little as 6 months. Terms and conditions apply.
No credit score? No problem. If eligible, we'll create your Cash Score instead.
2% – 10% cash back at select merchants
See if you're pre-approved within minutes without impacting your credit score.
No annual or foreign transaction fees.
Build credit alongside hundreds of thousands of Petal card members.
Petal's mobile app makes it easy to manage your money, track your spending, and automate payments.
Petal reports to all 3 major credit bureaus
No deposits required
Card issued by WebBank

Apply Online – Click Here

Intro Rate: N/A – Intro (Purchases): N/A – Intro (Balance Transfers): N/A – Intro APR Period: N/A – Purchase APR Rate: 24.49 – 33.99% Variable – Annual Fee: $0 – Credit Needed: Fair/Bad/Limited/No Credit – Return Payment Fee: Bounced payment fee up to $29. – Late Payment Fee: Late fees up to $29 for first late payment, $40 for second late payment. – Foreign Transaction Fee: $0 –
Apply for the Petal Card Invite Card Offer you Received in the Mail
We would like to offer you the Petal Card Invite to apply at CreditSoup Limited/No Credit Card offers page.
Petal 1 vs Petal 2 What are the Differences?
The biggest difference between the Petal 1 card and the Petal 2 card is fees. There are no fees whatsoever with the Petal 2 card, whereas the Petal 1 card has a late fee. Another difference is the credit limits. Petal 1 ranges from $300 – $5,000 and the Petal 2 ranges from $300 – $10,000.
You can also get a cash back bonus after 1 year with the Petal 2 vs Petal 1 has no cash back offer. Petal 1 also states you can be eligible for a credit line increase in as soon as 6 months, while Petal 2 makes no claim in their features.
The final difference is the regular APR or interest rate. Being that the Petal 2 has a higher credit limit offering, it would make sense it fits a better credit history demographic than the Petal 1. Petal 2 has lower interest rates than Petal 1.
Petal 2 has no fees Petal 1 has late fees
Petal 1 credit limit is as high as $5,000 Petal 2 is as high as $10,000
Petal 2 after 1 year offers cash back bonus, Petal 1 does not
Petal 1 offers a credit line increase after 6 months, Petal 2 does not state this.
Petal 2 has a lower regular APR than Petal 1 overall
What is the Petal card minimum score to get approved?
Petal cards do not have a minimum credit score, and what's even more impressive… If you don't have a credit score, they will use their own Cash Score to see if you can be approved or not. We were able to find reviews of the Petal 2 card with credit scores in the low 600's. It may be safe to assume scores lower than this may qualify for the Petal 1 or possibly Petal 2.
The Petal Visa Credit Card is Different from Many Bad Credit / Poor Credit Cards
The differences you will notice with this card is that it comes with rewards, cash back on select merchants, larger credit lines, lower interest rates than many of the other cards. From what we could see there were no late fees, application fees, processing fees, monthly fees, but confirm this with your application. Get yourself a Petal Card Visa Card here – CreditSoup Limited/No Credit Cards
As an Amazon Associate I earn from qualifying purchases. Also, I get commissions for purchases or applications made through links in this post. View our full Advertiser Disclosure Here