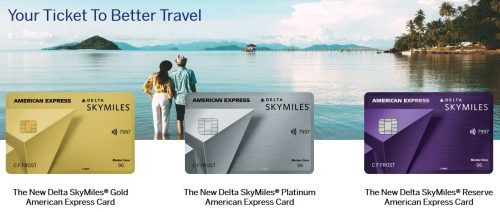 Whether you're just looking for finding great deals on flights with Delta or you are a long time Delta flyer there are 3 cards here that offer the benefits you can use to make travel that much easier.
All 3 cards come with a first checked bag fee credit as well as pay with miles feature. You also get priority boarding!
The New Delta SkyMiles® Gold
American Express Card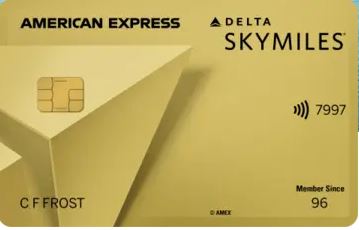 Earn up to 70,000 bonus miles when you apply for this offer before 04/01/2020 which is enough for many flights round trip in the United States as well as some flights to Europe or Asia! Simply spend at least $2,000 in the first 3 months and take advantage of 60,000 bonus miles. Upon card renewal you will receive another 10,000 bonus miles.
No Annual Fee for the First Year – After that $99
That's correct! Try the card out free for the first year, see if it works for you and if you find the $99 can be offset in rewards and perks of American Express and Delta then each year after that you will be charged the $99 fee. Here at Cardrewards.net we recommend that if you don't spend at least $10,000 per year on the card after the first year a card with No Annual Fee or a lower annual fee might be a better fit.
Spend at least $10,000 in a year – get rewarded!
That's right, if you spend at least $10,000 in a year get a $100 delta flight credit. Who doesn't love cheaper airfare?
The New Delta SkyMiles® Platinum
American Express Card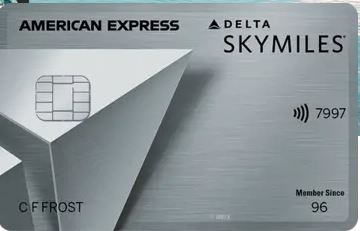 Earn up to 100,000 bonus miles as long as you apply before 04/01/2020 when you spend at least $3,000 in the first 3 months which can usually get you a couple round trip tickets in the United States or Round Trip anywhere in Europe and Asia (depending on pricing, time of year etc). The breakdown of the 100,000 miles bonus is 80,000 miles when you make the $3,000 minimum spend during the first 3 months and another 20,000 after your first annual card renewal. This card comes with a $250 annual fee so you don't get to try out the card for free for a year like the Gold Card but if you travel frequently and like streamlined travel benefits then this card can work great for you!
$250 Annual Fee – Do the Benefits and Rewards offset the Cost of the Fee?
Cardrewards.net recommends that you spend at least $25,000 per year to consider this card working out with the annual fee. Spending less would benefit you as well if you spend a lot with Delta or stay at hotels often as both get 3x miles per dollar spent. With 2x miles per dollar on Supermarkets and Restaraunts. If you spend at least $8,000 on hotels and Delta or $12,500 at the Supermarket or out to eat then this card is another one to consider.
$100 Fee Credit for TSA Pre-Check or Global Entry
Receive either a $100 statement credit for Global Entry or an $85 credit for TSA Pre✓®. This is good once every 4 years for Global Entry or 4.5 years for TSA Pre-Check. Both of these save valuable time either getting through TSA screening lines or US Customs entry.
The New Delta SkyMiles® Reserve
American Express Card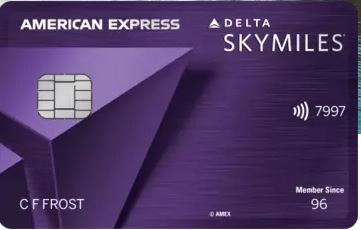 Earn up to 100,000 miles plus 20,000 Medallion Qualification Miles (MQMs) when you take advantage of this offer by 04/01/2020. This card comes with a hefty $550 annual fee but can be worth it for those who are already Medallion members or long term professionals who fly with Delta regularly, especially those who fly internationally. The breakdown of the miles bonus is 80,000 miles and 20,000 MQM's when you spend $5,000 or more in the first 3 months. You get another 20,000 miles when you renew after the first year.
$550 Annual Fee – Is it worth it for me?
Do you plan on spending at least $50,000 per year, do you fly internationally on a regular basis and are you a Medallion member? If you can answer yes to these, then this card may be a great fit for you. With a 3x miles per dollar bonus on Delta purchases you can get by with a lower spend of around $16,000 on Delta purchases to consider this a worthwhile card.
Where to Apply?
You can take advantage of and compare all 3 of these offers at https://card.americanexpress.com/d/delta/ review each offer side by side and decide which one works for you. Hurry though, these offers end on 04/01/2020 so act fast!
Welcome to CardRewards.net
Average rating:
0 reviews
As an Amazon Associate I earn from qualifying purchases. Also, I get commissions for purchases or applications made through links in this post. View our full Advertiser Disclosure Here