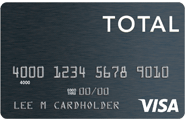 As an Amazon Associate I earn from qualifying purchases. Also, I get commissions for purchases or applications made through links in this post. View our full Advertiser Disclosure Here
You may have received a mail offer for the Preapprovedtotal.com Total Visa® Card. Which is a pre-approved offer issued by the Bank of Missouri. The Total Visa® Card is targeted to people who have poor/bad credit. This is a card that should only be applied for if you are in need of rebuilding or improving your credit score.
PreapprovedTotal.com Total Visa® Card Review
Below is a review of the PreapprovedTotal.com Total Visa® Card that goes over the card rates, fees and terms of the card.
Interest rate (shown as Annual Percentage Rate) 34.99% this rate is charged for any balance that isn't paid after the statement closing date + 21 days. You have 21 days from statement close to avoid paying interest.
Program fee $89 (Paid up-front)
Annual fee $75 (deducted from your initial credit limit)
Monthly servicing fee (Waived first year, $75 per year after that billed as $6.25 per month)
In order to apply for the PreapprovedTotal.com Total Visa® Card you will need to come up with the $89 program fee before the card will be opened.
Learn more about Total Visa® Card and Compare to Other Poor Credit Card offers here – Creditsoup® Poor Credit Cards