Get 50,000 Membership Rewards Points Limited Time offer from American Express Premier Rewards Card
That's right, get a limited time offer invitation to apply for the permit rewards gold card from American Express and get 50,000 membership reward points after you spent $2000 in purchases on the card within the first three months.
Also with the card, you were in three times points for airfare purchased directly from the airlines, two times points at US gas stations and supermarkets, and one times points on everything else but to make purchases work.
The good news is you can transfer your membership rewards points to airline miles or hotel points at a value of one cent per point. Another way is to use your points to purchase gift cards, to get full value every 1000 points should be equivalent to a $10 gift card.
American Express has also been known to have the most airlines and hotel partners, so there's a good chance that you can transfer your membership rewards points to the hotel or airlines of your choice. As a rule of thumb, always doublecheck with your frequent flyer program or hotel rewards program to ensure that you can transfer your points.
There is an Annual Fee of $175 but the good news is they waive the fee for the first year!
I checked to see if you could apply for this offer with no rsvp code, but it appears that American Express targets these offers with an RSVP code, so if you don't have one, you are out of luck. It never hurts to call though, here is the number to call to apply 1-877-203-2288.
Offer Expires October 31st 2014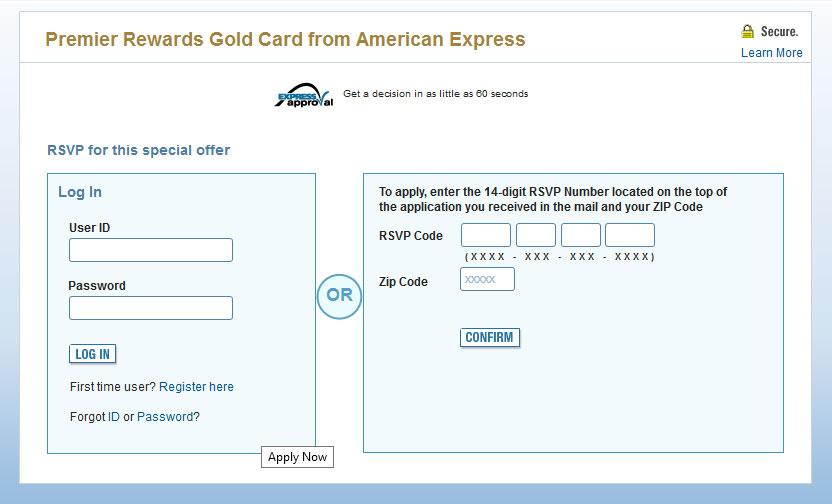 As an Amazon Associate I earn from qualifying purchases. Also, I get commissions for purchases or applications made through links in this post. View our full Advertiser Disclosure Here