Chase banking policy – You can't deposit cash into another checking account unless you have a checking account with Chase.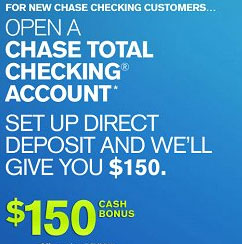 I signed my son up for the new Checking Account $150 Free offer. I went into the branch today to deposit $100 into my sons account, because to get the hundred fifty dollar bonus you need to make a minimum deposit and also have direct deposit.
While trying to deposit $100 cash into my sons account, they would not let me since I don't have a Chase checking account, I do have a Chase Freedom Card, but that was not good enough. Makes me wonder if its worth banking at a place that won't allow you to make a deposit into someone else's account, seems fairly ridiculous to me.
Has this happened to any of you? I would love to hear your comments. Or if you're a banker, an explanation will be wonderful.
As an Amazon Associate I earn from qualifying purchases. Also, I get commissions for purchases or applications made through links in this post. View our full Advertiser Disclosure Here