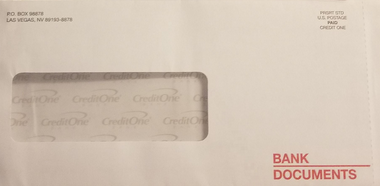 Did you receive a Mailer from post office box 98878 from Las Vegas NV? Typically the return address you will see from this location is a pre-approved offer from credit one bank. Typically this is a card that is sent out to people with less than perfect credit, it's a legitimate bank.
Is credit one a legit company?
Yes credit one is a legitimate company, they are based out of Las Vegas NV and have been around for at least a decade. They provide credit cards for people with not so perfect credit. If you would like to take a look at their credit card offers you can review and compare them with other rewards credit cards. According to consumers affairs website people with credit scores in the range of 300 to 670 can qualify for a credit one card.
Does a pre-approved credit one card offer mean I will automatically be approved?
No, not necessarily. What banks typically do is pull a soft inquiry off your credit report that doesn't affect your score or show up as an inquiry but it gives them identifying factors for them to consider somebody that has a decent chance of getting approved. Once you apply they will factor in everything from your credit report and credit score to determine if you are approved or not.
Is credit one a scam?
No, credit one is not a scam, they are a legitimate credit card rewards company. As stated above they have been around for at least a decade if not longer and provide credit cards for people that are looking to improve their credit score or rebuild their credit. It is always important to look at the terms love your credit card including how much the annual fee if any might be, if there are any monthly or late fees, as well as a possibility of maintenance fees. Always do your due diligence so there are no surprises.
Did you receive a denial from credit one?
Many consumers who filled out a pre-approval application from credit one typically had one of the following two criteria that resulted in a denial from credit one period the first was having credit scores that were typically higher than 700, and the second were people that had high amounts of past debt, collections , judgments etc. Yes it is possible to get denied a credit card for having too good of credit, and of course it is also possible to get denied for having too terrible of credit.
Should I apply for the credit one credit card?
Visit our rewards credit card section and take a look at various credit one credit cards and compare them to other cards in that section. If one of those cards looks like a good fit, then by all means give it a try, but as stated above make sure you look at the terms and conditions and the fine print as there may be annual fees, higher interest rates and more.
As an Amazon Associate I earn from qualifying purchases. Also, I get commissions for purchases or applications made through links in this post. View our full Advertiser Disclosure Here